I am going to write the very first testimonial. Hannah "The Blind Wonder Dog" came to me as a temporary foster-sitter for a few weeks. She started on our meals and immediately
improved her digestion, her coat, her weight and her sociability. The power of healthy food helped Hannah reach her true potential as a perfect companion and an inspiration.  From the streets to good eats, Hannah is my shining light and forever friend. She is up for adoption this August… good luck, Hannah! Stay tuned…
UPDATE: Hannah has been adopted (9/12).  She found a wonderful home.  Congratulations, Hannah!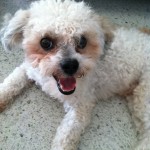 This is my new guy, Montgomery Clift.  This is a photo (left) from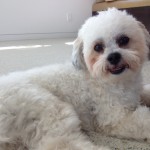 our first day at home.  He was thin, tearing, sneezing and dripping like it was allergy season on steroids.  After eating Puppy Belly Deli – morning, noon and night – he has cleared up quite handsomely.  Here he is (right) two months later.  Beef with Potato and Veggies is his favorite… but they are all his favorites, I think.  Looking pretty spiffy, huh?